After tattooing for 20 years, I started making personal symbols for people, places, animals & companies etc. for past several years. This has been a long growth process.
Around my twenties I started as a tattoo artist. Drawing was my passion since childhood. Detailed drawings of mainly people and animals. During my years as a tattoo artist, I noticed that my drawings became more and more simple. Not only because I love the simplicity, but also because in the long run, these remain the most beautiful on skin.
Tattoos are as old as humanity. They can be found in history all over the world. Otzi, an ice mummy who lived about 5350 years ago, was covered in tattoos. There are tattoos on Egyptian mummies that date from almost 5000 BC.
Why did we ones start tattooing? What is their symbolic meaning? These kind of questions have always puzzled my mind.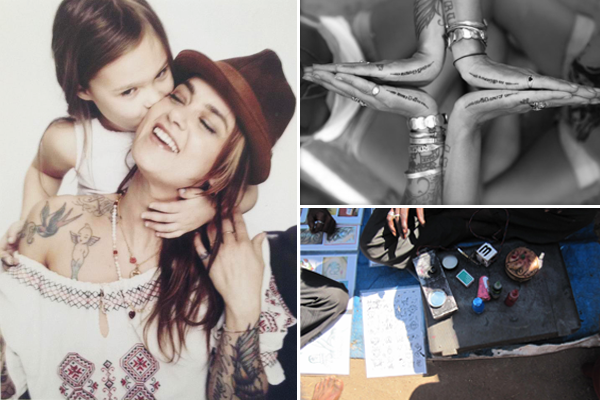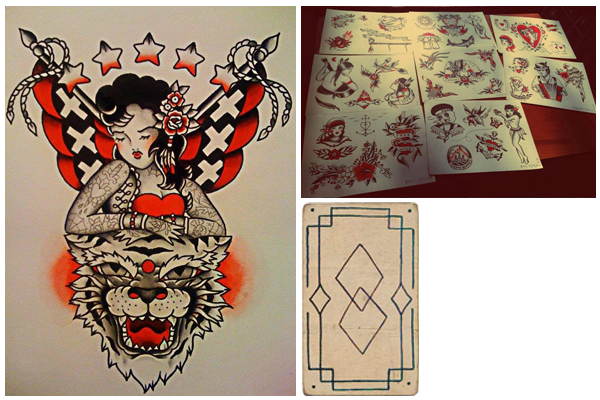 As a 17-year-old girl, I had my first tattoo, together with my father. Shortly after, he passed away. That tattoo means the world to me. When I was 19 I got tattooed by monks in a Thai temple. People went into a trance through the tattoos. These magical tattoos stand for protection and I certainly experienced that protection afterwards. This inspired me to become a tattoo artist. Because of this I knew, before even starting, that tattoos were much more than just a picture.
As long as I can remember, I have the 'gift' of seeing people in their authenticity, in their full nature without any masks. I see people in their highest potential, how they are when fully utilizing their personal talents and unique qualities.
Often people do not see this in themselves and therefore do not live it. I have experienced this as frustrating in the past: 'Don't you not see who you are?!'
I could see it, but I had not yet given a concrete form to how I could use this gift positively.
Around the age of 30 I came into contact with shamanism. I was in a difficult space for a while. During this time, I met a very special man. He said he could help me and that he was a shaman. The energy of this man felt very pure and familiar.
He explained to me that shamans are people who live with one leg in the visible world and the other leg in the invisible world. That the shaman connects those two worlds in his heart with which he heals where it is needed. This can be with people, with animals, but also places in nature.
At that moment, I was in despair and so i decided to meet him. To my surprise, it turned out to be a "course" on how to become a shaman myself. Fortunately I did not know, otherwise I would never go!
There I started a beautiful and complete path: the path of Inca shamanism. A path where I brought light to the darkness within in myself. Where I dared to face my fears and start the confrontation.
It felt like a school of magic, and for the first time in my life I was a good student!
Since then, my life has turned around completely. It was as if I had lived in a theatre all my life and that the curtains to the real world finally opened up.

During my years as a tattoo artist, things already partly fell into place over the years. However, at an opening of the Tattoo Museum, It all made sense. Throughout the centuries tattooers have always been some sort of shamans. These were often women, who had an important role in the tribe to ensure the welfare of the people. Their tattoos would make the wearer fertile or protect them against diseases or violence. Such a responsible job! That's how I always experienced my work.

I feel we should cherish everyone's uniqueness and not just do what is expected of us. From our parents, our environment, what's in fashion. But that we are allowed listen to ourselves; where we feel passion for; what we like; what we are good at and what gives us energy. I believe that if you do what really makes you happy, you can develop yourself into your highest achievable potential.
If we become collectively aware of this, this will contribute to a much joyous world and a more positive mindset.
More and more I find myself surrounded by beautiful, brave people who also see the importance of all this. Without their masks. People who discover their personal talents and work with them. Who say YES to who they really are and with that say YES to their lives. YES, to their true nature and coming into balance with all that is.
The symbols are pretty much the only tattoos I still create. They lead back to the origin that tattoos were once intended for. They really make sense to me and the one I make them for. The path that has now been built around it gives them even more power.
I am very grateful for the work I am allowed to do.
ISEEJAH! ❤️